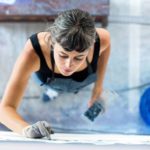 Zaria Forman's large-scale compositions of melting glaciers, icebergs floating in glassy water and waves cresting with foam explore moments of transition, turbulence and tranquility.  Zaria's drawings convey the urgency of climate change by connecting people to the beauty of remote landscapes.
Her works have appeared in National Geographic, Smithsonian Magazine, the Wall Street Journal and The Huffington Post.  Her drawings have also been used in the set design for the Netflix TV series House of Cards.
Her most recent achievements include participation in Banksy's Dismaland, flying with NASA's Operation IceBridge, a solo exhibition at Winston Wächter Fine Art in New York City, and a four week art residency in Antarctica aboard the National Geographic Explorer. Her next solo show is at Winston Wächter Fine Art, Seattle, WA, opening Sept 9th, 2017.