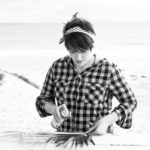 Fieldey is a professional artist with over 16 years experience in art and design. She specialises in street art murals, portraits, painted surfboards and skateboards, and commercial illustration, all created with a style that combines realistic painting with a cheeky retro old-school tattoo flavour.
She is well known internationally for her instantly recognizable iconic style and her popular YouTube channel, Fieldey TV, which features some of the best art tutorials on the web.
Fieldey works with brands to create custom illustrations and artworks for their needs. Clients include Coca Cola, Citroën, Iron Fist Clothing and Seven Skates.