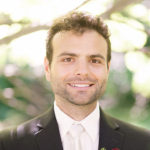 Marco Bucci began to study classical drawing at age 19, which led him to kindle a love for painting and illustration. He hasn't looked back since.
His experience includes books, film, animation, and advertising. His clients include: Walt Disney Publishing Worldwide, LEGO, LucasArts, Mattel Toys, Fisher-Price, Hasbro, Nelvana, GURU Studio, C.O.R.E. Digital Pictures, Yowza! Animation Inc., Pipeline Studios, and more.
Marco is also a passionate teacher, and currently teaches "The Art Of Color & Light" at CGMA, a course specifically designed to build painting fundamentals from the ground up.