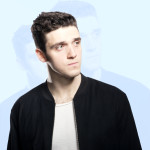 Ari Leff, aka Lauv, is a New York based singer, songwriter, and producer who hit the ground running when he released his debut "The Other," which instantly became a debut hit, now with over 1 million listens on Soundcloud.   He is an NYU senior who just returned from studying abroad in Prague.
In this episode, Ari discusses:
-How he balances his time as a full-time student and full-time musician.
-His first creative moments as a kid.
-Once he decided to pursue music, he didn't let anything hold him back.
-How balancing his time ebbs and flows.
-How his narcolepsy affects his sleep and his life.
-How inspirational and influential figures in his life change all the time.
-Music fulfills his mental health.
-To remember what is important to you and to never stop practicing and learning.
Ari's Final Push inspires you to never, never, never give up.

Quotes:
"My life changed completely when I released that song."
"I finally decided to do something original and say 'I'm not going to try to give this to someone else,' I'm going to do it myself."
"Music is like me breathing."
"You are the only person that will get in your way."
Links mentioned:
"The Other" by Lauv Music Video
Connect with Lauv:
Website / Facebook / Instagram / Twitter
Purchase Lauv's "Lost in the Light" EP