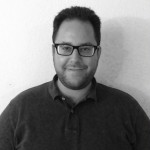 Adam was a Staff Writer on NBC's drama State of Affairs and his work on the FX drama The Bridge included co-writing the penultimate episode of the second (and final) season.
He published the eBook Mixtape, a collection of one-act plays available as a free download on iBooks, Amazon, and Barnes & Noble. And most recently released a sequel called Fire Sale, available on the same platforms.
On the feature side, his script Negative is currently in production. Directed by Joshua Caldwell and starring Katia Winter, Simon Quarterman, and Sebastian Roche. And he's set to make his feature directorial debut on the indie Prepaid, which he also wrote.
In this episode, Adam discusses:
-One of his first creative moments, in his creation of "R-Man."
-Some of the things that held him back from creating.
-How doubt begins to creep into ones creative life and how to get through it by trusting your instincts.
-His advice for writers or anyone else who want to try their hand in writing screenplays or scripts.
-The value in reading the scripts of your favorite movies (and your least favorite).
-The hardest moment for him creatively in moving to Los Angeles for the first time.
-Having to throw out his old work and redefine himself once he arrived in LA.
-Attempting to find a balance between finding a job to make money and working on his craft.
-One of his best moments, when the day job and the dream job finally met for the first time as a staff writer.
-"Mixtape" and why he created it and put it out into the world for free.
-The unexpected benefits of putting your work out for free that you might have never expected.
-His formula for managing his time.
-The importance of turning off the Wi-Fi so that you can concentrate on being creative without distractions like deadline.com.
Adam's Final Push will inspire you to jump on the bus!

Quotes:
"It was just a crippling amount of doubt that the same blinders that I had on that other people didn't have on at an early age made me second guess, 'should I be putting this much pen to paper?'"
"You can learn just as much from a bad movie as you can a good movie."
"I said I was going to do this my whole life.  Now I'm here.  Two bags, one-way plane ticket.  It just got very real."
"I decided to take a page out of a rapper's book.  Let me put out free content on the Internet in the hopes of landing a job, or attracting representation, or even just starting to build a fan base."
"I work on my brand and my one man operation and my business every single day.
Links mentioned:
–Mixtape by Adam Gaines (Amazon)
–Fire Sale: Another Collection of One-Act Plays by Adam Gaines (Amazon)
–Hollywood Animal by Joe Eszterhas
Connect with Adam: