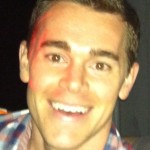 Bo is a television writer who got his start and first two scripts on the Disney Channel's hit show "Good Luck Charlie."  His next writing job came on the Netflix Original "Richie Rich," a sitcom remake of the classic comic book.
In between those jobs, he raised $12,000 on Kickstarter to produce his own animated show, "Pearly Gates," which was released in February 2015.  Bo graduated from Fairfield University in 2006 and was born and raised in Portland, Maine.
In this episode, Bo discusses:
-His creative journey from college until the point that he is at now.
-How his first forays into writing were treated like a "secret hobby."
-How he had to convince his friend, Matt Lynch, to join him in creating writing as a career by using a Farrelly Brothers clip.
-How he took matters into his own hands while working on "Good Luck Charlie," by giving the showrunners his card and making sure they remembered him.
-The idea behind "Pearly Gates" and his reason for creating it.
-The process of creating a new show and hiring other creatives to do work on it.
-How there are two ways to make your ways through the ranks as a screenwriter.
-The importance of writing down all of your ideas so that you can develop them later.
-The importance of knowing the finalized form you want your art to take.
-How you should complete the work you start, so it might be helpful to start with smaller projects in the beginning that you will be able to see all the way through.
-How to properly look at criticism and use that criticism to help you.
-How to deal with writer's block (by forcing yourself to write consistently every day).
-His advice for someone who wants to get their script out there that has a full-time job or full-time responsibilities that can't pick up their life and move to Los Angeles.
-How to figure out if the criticism you receive is merited or not.
-The importance of having people that you can trust who can look at your work.
Quotes:
"I wanted to just make something.  Because I had been writing and writing and writing, which is fun.  But after awhile you want to actually see your work living."
"The more that you write down, the more that it takes on a life of its own."
"The more I wrote, the more that stuff came to me."
"It really is important having a life outside of your craft because that is where all the ideas come from."
"It never gets easy but it gets easier."
Links mentioned:
Farrelly Brothers' RWU Commencement Speech
Connect with Bo:
Website / Facebook / Instagram / Twitter / Linkedin