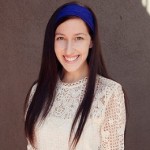 Brooke is a fine art photographer, author, and motivational speaker from Lancaster, PA.  She grew up near the "Amish Country" until attending Temple University. Brooke was photographically born in December 2008 after graduating from Temple with bachelor degrees in film and English.
Self portraiture for her is not autobiographical in nature. Instead, she places herself within environments she wishes to explore, where secrets are exposed, impossibilities are tested, and life is questioned in eras beyond our own.
Brooke works to capture fantastic realities within her photographic frame. By using painterly techniques as well as the square format, traditional photographic properties are replaced by otherworldly elements.
In this episode, Brooke discusses:
-How photography felt like a rebirth for her because it was one of the first things that she considered herself "good at."
-The story of the first time she picked up the camera and started with self-portraiture.
-How she has always loved writing and her reason for starting her blog "Promoting Passion."
-Her reason for starting her YouTube channel despite her extreme fear of public speaking.
-How she doesn't like working in teams if she can avoid it.
-How she is able to balance her time and produce all of the content that she is able to put out in her various mediums.
-The importance of knowing your business so that you can focus solely on the things you love and want to produce and say "no" to things that don't fit that.
-The story behind "Phoenix."
-The story behind "Capturing Inspiration."
-The many factors that contributed into her starting self-portraiture.
-How she feels like "The Falling of Autumn Darkness" entirely captures her essence.
-One of the things that holds her back is wanting to create images that are darker in nature and fearing the backlash that might come from doing so.
-How she has recently decided to slow down her creative pace to make work that will take her longer but will be more creatively fulfilling.
-A creatively fulfilling moment in Iceland where she was able to really push herself.
-How it's okay if who you think you want to be ends up not being who you become, especially when it comes to art.
Brooke's Final Push will inspire you to ignore others and forge your own path!

Quotes:
"It was quickly evident that photography would morph into the thing that I would continue to pursue."
"I could just pretend that my camera was a friend standing in front of me and sharing my insights, my failures, my successes – anything I had going on at the moment and do that really vulnerably.
"I think the moment that we accept our weaknesses and turn them into strengths, then we have control over those things.
"To me, self-portraiture is the best way of expressing who I am and being able to do that in the most genuine way while keeping control of the whole creative situation."
"Art is the best way of understanding yourself and the better we understand ourselves the more fulfilled our lives can be."
"Every single time I put pen to paper or I pull out my camera, it's that question of "Who am I now?  Who do I want to be?  And how will I portray that?  And that is the biggest gift."
"It's fine if who you think you want to be turns out to not be true."
"Whatever you feel you need to be doing in your life, do it.  Forge your own path and let others follow in your footsteps."
Links mentioned:
–Promoting Passion Convention!
Connect with Brooke:
Website / Facebook /  YouTube /Instagram / Twitter