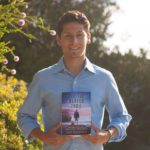 Jake Heilbrunn is a 19-year old writer who just published his first book, Off the Beaten Trail, a true story about his journey dropping out of college at eighteen and solo-backpacking through Central America with no phone or knowledge of Spanish.
In this episode, Jake discusses:
-How a rare skin condition started him on his journey just three days after moving in to college.
-How his journey began with an Ex-Hostage Raid & Recovery Vet.
-The incredible experience of being able to trek through ancient Mayan ruins.
-How he started writing the book the day after he got home from his journey.
-His daily writing process and how he was able to finish the first draft of his book in just three months.
-The idea of starting your day in an uncomfortable way (like with a cold shower) to prepare you for the next thing that you might not want to do (like write).
-Detaching yourself from what you wrote that you thought was gold so that you can "kill your darlings."
-How he used Quantum Leap to help him get through the editing and publishing phases of his book.
-How he stays consistent with his writing through his weekly blog.
-The uncomfortable feeling of putting yourself out there and fearing rejection (and how to get past it).
-How he took chances by trusting his gut and approaching Drew Brees and Chris Guillebeau to ask for their endorsement for his book.
-His best and worst creative moments.
Jake's Final Push will inspire you to follow your gut and trust that you know what's best for yourself.

Quotes:
"It definitely shifted my perspective."
"Allow yourself to write garbage."
"Writing just always called out to me.  Being able to articulate words and ideas into a story."
"It's like taking that first step when you can't see the whole staircase."
Links mentioned:
Off the Beaten Trail by Jake Heilbrunn
Wild by Cheryl Strayed
Man's Search for Meaning by Viktor E. Frankl
"PUKE IT OUT, then polish it!" — YCP Episode 38 with Kent Gustavson
Connect with Jake:
Website / Book / Facebook / Instagram / Twitter