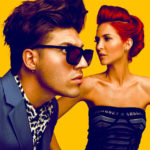 POWERS is the dynamic duo comprised of Mike Del Rio and Christa Ru, two talented musicians moved from New York to Los Angeles, but made sure to maintain their collaborative orbit with one another on their journey.  They have helped to create music for some of the biggest names in music, but have come together with POWERS to grasp timeless music out of the universe for the world to enjoy.
In this episode, Mike & Christa discuss:
-How they came together to create POWERS.
-The importance of collaboration, especially when you can find someone who "gets it."
-The difficulty in being a solo artist and having to make so many big decisions on your own.
-How important it is to take notice of when you are having fun while creating, and doing whatever you can to stay in that zone.
-How Selena Gomez cut one of the songs they were working on
-Their advice for keeping that childlike inspiration and joy that we sometimes forget about as we become adults.
-The importance of surrounding yourself with "good coconuts" – people who support your mission and your creative goals.
-The difficulty in spending too much time on an idea or song and becoming numb to it.
-Making sure to be the captain of your own ship and to have the confidence to know that you are the one whose ideas are sought after.
-How some of their favorite songs come from an idea they had four years prior.
-Keeping a database of ideas that you can come back to at any time to continue to become inspired or see which idea is ready to be turned into something complete.
-The importance of becoming a "shipper" – someone who continues to put out content on time.
-The story behind their new song, "Sunshine."
Quotes:
"The feeling of being creative, whether you're five years old and playing with legos and drawing – that magic and sense of wonder where you just made something out of thin air — that doesn't really age.  That feeling is eternal."
"Making something and pulling it out of the universe is a very special, kind of birthing emotion."
"As a band we always wanted to reach as many people and touch as many people as possible while still keeping a sense of integrity, intelligence, and sincerity with our music."
"You have to keep a corner of it for yourself.  Where you don't care if you succeed, you don't care if anybody pays attention to it.  It's purely for the enjoyment of what you're doing."
Connect with POWERS:
Website / Soundcloud / Facebook / Instagram / Twitter