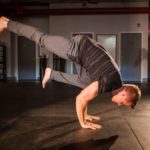 Alex Hofeldt is a science teacher, podcaster, yoga & mobility instructor, fitness coach and nutrition enthusiast.  In his podcast, Beautiful Dust Specks, Alex shows the world the wonder and motivation in Science.
In this episode, Alex discusses:
-The process of starting his podcast after years of putting it off.
-How the beginning is always the toughest part, but once you start, you never know what can happen.
-Some of the fears that still creep into his thought processes and the way that he gets through them.
-The sometimes difficult-to-balance tightrope of being happy with the "tribe" that you already have and wanting to grow it exponentially.
-How he is attempting to stop using the word "failure."
-His experience of running a marathon this year.
-How you know the outcome if you quit
-Neuroplasticity and how it relates to creativity.
-The idea of choosing to be in a more positive mindset and at the same time down-regulating negative emotions.
Quotes:
"My biggest fear in life is squandering gifts and wasting time."
"Nothing is ever going to be perfect.  Perfect is an unattainable thing."
"Embrace the chaos."
"Your first challenge is to start.  Just start going down some road of the infinite possibilities that it is that's you and see where it takes you."
"Fitness, health, wellness, mind, body, creativity – they're choices.  You just have to open the book."
Links mentioned:
Connect with Alex:
Website / Facebook / Instagram / Twitter