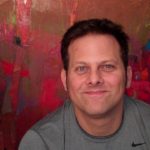 Brian Rutenberg is an internationally exhibited painter based in New York City. He received his bachelor's degree in fine arts from the College of Charleston in 1987 and his master's degree from the School of Visual Arts in New York City in 1989.
Among his many accolades, Brian is a Fulbright Scholar, a New York Foundation for the Arts Fellow, an Irish Museum of Modern Art Residency Programme participant, and has had over 200 exhibitions throughout North America. His popular YouTube series, "Brian Rutenberg Studio Visits," is viewed daily by thousands of people all over the world and his brand new book Clear Seeing Place is an Amazon Number One Bestseller.
In this episode, Brian discusses:
-How and why he started his YouTube channel, "Brian Rutenberg Studio Visits."
-His attempt and the attempt of all creative people to "strip naked" and bear your soul in the most honest way possible.
-The fear that comes when starting a new creative pursuit, especially when you are sitting in front of a camera.
-Details about his new book, Clear Seeing Place and the process of creating it.
-How he was able to achieve the #1 spot on Amazon in two different categories.
-The idea of building a following of like-minded individuals and focusing less on the number of followers in terms of popularity.
-How he reads every single comment and e-mail, but never reads reviews.
-How the failures make up half of your creative career, and once you can embrace those bad things, you become stronger as a creative person.
-A defining moment with Clement Greenberg.
-The power that comes from letting go."
-How to get past the blocks that still occur even when you are in a locked room with your creativity.
-The importance of finding your "postage stamp-sized niche."
-How he balances his time.
-How boredom is jet fuel for creativity.
-How artists and creative people can free their minds by wandering and getting out in nature.
-His advice on how to know when a painting is done, even if that means it is time to throw it away.
Brian's Final Push will make you realize that there is a difference between looking and seeing

Quotes:
"I have the best job in the world.  My worst day is still better than the best day in most other jobs."
"Unfortunately success is too often confused with popularity."
"Success, in my opinion, is curiosity and effort.  Those are things that you control."
"I would say the defining word of my entire career is 'Resistance.'"
"There's always going to be someone better than me and someone smarter than me, but there will never be anyone just like me."
"The recipe is to just be yourself, and then the rest is just practice."
"I've always believed that an artist is born the moment they give up, the moment you stop trying so hard."
"Repetition is very valuable for a painter, because it allows you to get really good at stuff."
"The narrower you are, the bigger the umbrella over you."
"Artists are malleable.  We are able to survive in almost any situation."
Links mentioned:
Clear Seeing Place by Brian Rutenberg
Three Cornered World by Natsume Suseki
Connect with Brian:
Website / Books / YouTube / Facebook / Instagram / Twitter