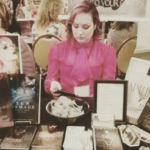 Nikki Rae is an independent author who lives in New Jersey. She explores human nature through fiction, concentrating on making the imaginary as real as possible. Her genres of choice are mainly dark, scary, romantic tales, but she'll try anything once. When she is not writing, reading, or thinking, you can find her spending time with animals, drawing in a quiet corner, or studying people. Closely.
In this episode, Nikki discusses:
-How she started writing when she was 14 and homebound after breaking her leg and having nothing else to do.
-The frustrating and fruitless experience of querying her first novel out to publishers for five years.
-The differences between indie publishing and traditional publishing.
-How independent publishing takes away the gatekeepers.
-Being able to interact with and get feedback from her audience as she is writing.
-Getting burnt out.
-Her strategy of writing for half of the year and promoting for the other half.
-How everyone struggles with imposter syndrome… even Neil Gaiman.
-How she battles her inner editor through word sprints.
Nikki's Final Push will make you realize that the world needs your story!

Quotes:
"I feel like when I was querying the story, I was asking for permission for my story to be real to people.  The more I did it, the more I hated the idea of other people being in charge of what I wanted to put into the world."
"It's like two-parts writing and a-million-parts promoting."
"Rejection isn't an excuse to not put a book out there anymore."
"Any creative person that's good at what they do hates half of what they do."
"Your world is in your head, and it's up to you to make it real."
Links mentioned:
Metamorphosis Editing Services
Kelly Killagain on Your Creative Push
The Art of Asking: How I Learned to Stop Worrying and Let People Help by Amanda Palmer
Connect with Nikki:
Website / Books / Goodreads / Facebook / Instagram / Twitter
On the next episode:
Hannah Yata : Website / Instagram