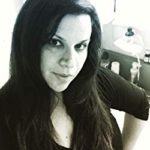 Aliza Einhorn is a writer, an astrologer and a tarot reader.
Her first book, The Little Book of Saturn, is a smart, friendly introduction to the astrological Saturn.  It is a book for curious readers who know there is more to astrology than their sun signs.
In this episode, Aliza discusses:
-How her first book ended up not being a poetry book even though she thought it would.
-Why she stopped writing poems while in her thirties.
-Identity and whether or not we can define ourselves by something we no longer do (or haven't done for a while).
-A crash course of Tarot and how it can help people with their creative blocks.
-Having a dual-identity, where one-half of you is focused on a day job and making money while the other half is focused on your creative passion and doing what you truly love.
-How astrology is a tool for self-awareness and self-discovery.
-The validation that creative people can get when they are (finally) told that they might be meant to do the thing that they've always known that they are supposed to do.
-Why Saturn is so important.
-Working with Tom Hart and the Sequential Artists Workshop.
-How creating art and finding your audience is like internet dating.
-The experience of writing and publishing her first book.
Aliza's Final Push will inspire you to keep going, and be willing to move into a new creative passion!

Quotes:
"I remember thinking 'I'm not going to write anything anymore unless it is directly related to my income, which I want now to be astrology.'"
"It's not one-size-fits-all.  You can create your work and create your life.  You just have to do it.  You can't wait for someone else to do it for you."
"People are afraid.  They're afraid of others seeing their insides."
"If you don't expose yourself, people aren't going to care."
Links mentioned:
Youngman Brown's astrology reading
The Little Book of Saturn: Astrological Gifts, Challenges, and Returns by Aliza Einhorn
Tom Hart on Your Creative Push
Astrology and Tarot Readings by Aliza
Connect with Aliza:
Website / Facebook / Patreon / Twitter