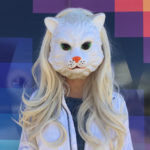 Limbo is a musician from the Bay/Los Angeles area of California who is interested in creating sounds for your ears, minds and hearts.  While she wears a cat mask to take her identity out of the equation, she opens her heart with her diary-like lyrics and beats.
Her new album is called Lonely But Never Alone and is available here.
In this episode, Limbo discusses:
-How she taught herself to play guitar and use Ableton via YouTube tutorials.
-Why she chose to use a pseudonym and wear a cat mask to hide her identity and the superpowers that it gives her.
-How she developed her unique style.
-Her creation process and the starting point for each song.
-Being self-taught vs. a formal education.
-How she finds the motivation when she doesn't feel like learning or working.
-What went into making her new album, Lonely But Never Alone.
-Resistances that she deals with such as self-doubt and comparison to others.
-What went behind her decision to make the plunge of becoming a full-time musician, and what that journey has been like thus far.
-How she built her initial audience with consistency.
-The inspiration she gets from Jim Carrey.
Limbo's Final Push will inspire you to never stop believing in yourself!

Quotes:
"I feel way more comfortable with a mask on.  It does give me superpowers.  It makes me feel more confident."
"We're all taught to grow up and think that you can't be a rockstar so it's hard to have that dream and believe in yourself sometimes."
"That's what any artist or creative person dreams of, is not working somewhere they don't want to and being able to create whenever they want to."
Links mentioned:
Connect with Limbo:
Website / Soundcloud / Spotify / Facebook / Instagram / Twitter
On the next episode:
Joshua LaRock : Website / Instagram