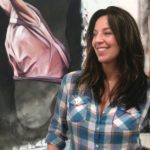 Aimée Rolin Hoover is a contemporary animal painter who is originally from Philadelphia, PA but currently lives/works in southern California.
Whether her subject is a canine, cow or a black rhino, her hope is that her work offers the viewer—in some small way—what animals have the power to do in person: to inspire us to be exactly where we are in the present moment. A space in which we don't necessarily have to think or understand, but instead feel and connect.
Her paintings hang in collections all over the world, from the U.S. and Canada, to Europe and South America.
In this episode, Aimée discusses:
-Her reflections from her Fly Mask series.
-Saying "yes" to Between Worlds despite her fear of collaboration, being on camera and putting herself in an unknown scenario.
-What it was like to work with Black Light King.
-Her earlier lessons on collaboration.
-Why she decided to make her fourth year of 30for30 paintings her last.
-Her dedication to move toward what she doesn't know.
-How she doesn't want her work to be for everybody.
-How she handles her e-mail list.
-The support that she receives from her husband, Scott (especially during the busy times).
Aimée's Final Push will inspire you to go with your gut!

Quotes:
"Once I have an idea, I just have to get it out."
"I hadn't been that scared in a really long time.  Like truly scared."
"Just go with your gut.  I think our heads get in the way of the work that we create or the excuses we give ourselves to not do our work."
"You need to go towards what excites you and pulls you into being creative."
"Follow your gut before your head gets in the way!"
"Do the weird stuff.  People out there are waiting for your weird stuff."
Links mentioned:
Between Worlds: Two Artists Fuse Styles On One Canvas
Connect with Aimée:
Website / Facebook / Instagram / Twitter
On the next episode:
Felix Semper : Website / Instagram