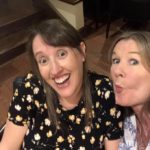 Sandra Busby is a still life artist who paints in a contemporary style using traditional methods.  Inspired by the ordinary, she strives to capture the playful light in glass and other still life with her paints.
Tara has been in the Graphic Design industry for over 20 years and is the creator of the hugely popular blog, 'The Idea Medic'. She also has a design website www.roskelldesign.co.uk where you can see an abundance of her quirky creations.
They came together to create Kick in the Creatives, a website, podcast and community where you can find an abundance of existing online creative challenges all under one umbrella and with some brand new ones added to the mix.
In this episode, Sandra & Tara discuss:
-What Kick in the Creatives is all about.
-What it was like to meet in person for the first time.
-Learning some of their resistances such as imposter syndrome.
-Finding ways to detach yourself from your work.
-How to handle the insecurities that arise from listening to your own recorded voice.
-What they've learned from the members of their community via the challenges and discussions.
-The encouragement that is rampant in their Facebook group.
-What they learned from the challenges that they participated in (and the children's book that came out of it).
-Getting past the fear of drawing in public.
-Some of their upcoming challenges, including Art Journal January, Aqua January, February Fables, Five Minute March, Cartoon in June, April Poetry, and Early Rise August.
-Overworking your sketches because you love the process of drawing so much.
-What it was like to interview some of their creative heroes.
-The lessons they learned from Danny Gregory, Jon Burgerman, Joanna Penn, Tracey Fletcher King and Callum Stephen.
-What they learned from Jake Parker about deep and shallow creative blocks.
-Getting past imposter syndrome.
-Finding comfort in the fact that all creative people go through the same struggles as them.
-Some of the various ways in which the members of their community have collaborated and helped one another.
Sandra & Tara's Final Push will remind you that five or ten minutes is enough time to be creative, so JUST START! 
Quotes from Sandra:
"I don't think either of us knew how much work it would be, but definitely worth it."
"We were standing in front of everyone in that museum and somehow it cured me there and then of that fear of drawing in public."
"I think the reason that I take so much time drawing is because I love that process so much that I actually don't want it to end."
"This whole Kick in the Creatives thing is all about trying to form a creative habit.  It does take time, but you do get there eventually."
"Just start.  Every day that you don't start is a day further away from getting to where you want to be."
Quotes from Tara:
"Unless you try it, you don't know if you're good or not at that thing, even if it takes you a little while to learn it."
"It's like writing.  If you just throw in your first draft without editing as you go, it just gets out there on the page.  It's the same with drawing quickly."
"It's not just about the challenges.  It's about all these people coming together.  There are definitely friendships being formed in our group."
"Nobody really knows and nobody should discount you or tell you that you can't do something."
"Even five to ten minutes is enough to do something creative.  Don't waste those small moments just because you think that you don't have time."
Links mentioned:
Connect with Sandra:
Website / Blog / Facebook / Instagram / Twitter
Connect with Tara:
Website / Podcast / Facebook / Instagram / Twitter
On the next episode:
John Guydo: Instagram / Big Cartel
Join the discussion in the Your Creative Push Facebook group!