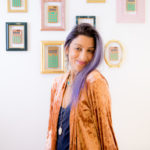 Vanessa Vakharia is the Founder and CEO of The Math Guru, a boutique math and science tutoring studio in Toronto with a unique approach that works – like actually!
She is also the co-founder of Goodnight, Sunrise, an indie-rock-and-roll-superfun-party band based in Toronto, Canada.
Vanessa is also the author of Math Hacks, which is designed for kids (and their parents) struggling with math anxiety and looking for a new approach to homework, studying, tests and marks.
In this episode, Vanessa discusses:
-How her life started when she failed math twice.
-The way in which we define ourselves as "good" or "bad" at something and then live that narrative.
-How her tutoring organically grew into The Math Guru.
-How the focus should be in doing something new, creative and enjoyable as opposed to profitable.
-The power in outsourcing.
-Her realization that taking the time to get to one of her pursuits must come from one of her other endeavors.
-Taking a Time Inventory.
-Her lifelong dream of becoming a singer and the stumbling blocks along the way.
-How one man called her "the worst singer he had ever heard," and how she took it as a positive.
-Growing immune to rejection and how that allows her to try for crazier opportunities.
-How anything is possible, but getting small examples of that for yourself as proof.
-Her take on the experience of opening for Bon Jovi and all of the synchronicities involved.
-The story behind her book, Math Hacks.
Vanessa's Final Push will inspire you to hustle as hard as you can so that you can take full advantage of your lucky moments.

Quotes:
"Where I am today started with this grand failure."
"It takes a lot for someone who is ambitious to realize that part of what needs to happen is slowing down a little, but also being creative and outsourcing."
"I've always liked being underestimated because it gives me the opportunity to surprise them later."
"It's all about mindset.  Cultivate a mind that is a hotbed for creative magic because it's so full of possibility."
"None of the things associated with failure are as bad and scary as never trying to achieve your dreams.  That's the scariest thing."
"The hustle is in your control.  The luck isn't.  You're trying to get to that perfect pinnacle where the two meet and you've done everything you can to take advantage of the lucky moment."
Links mentioned:
Math Hacks: Cool Tips + Less Stress = Better Marks by Vanessa Vakharia
The Life-Changing Magic of Not Giving a F*ck by Sarah Knight
Jia Jiang: What I learned from 100 days of rejection | TED Talk
Connect with Vanessa:
The Math Guru / Instagram / Spotify / iTunes
On the next episode:
Andrew Tischler : Website / YouTube / Instagram