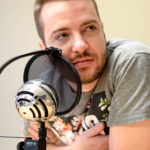 If there is one thing that Youngman has learned in the three years of creating this podcast, it is the fact that the best creative output comes when you share your own story.
Often times, it takes time and effort to figure out what that story is.
In today's episode we are going to explore the fact that your story doesn't have to reach a completion for you to start sharing it.  You simply have to share what's inside of you.  The closer you can get to that message, the better it will be… not necessarily in quality, but in the weight that it carries for you and for others.
Quotes:
"That's the glory of sharing your story.  It doesn't have to be a story.  It simply has to be what's going on inside of you.  As concrete or as confusing as it may be to you."
"There are a million ways that you can get off-track from telling your story.  And all of them are very quick derailments."
"Sharing your message is THE THING.  That's the focal point and the guidepost that will put you on the right path."
"When we're talking about using your art to tell a story, what better story is there than the story of your life?"
Links mentioned:
The Art Marketing Project Podcast
Kick in the Creatives Ep. 33 Using Art to Convey a Message or Story