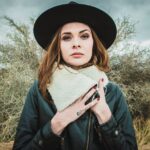 Suzanne Santo is an American singer/songwriter and actress.  Before branching out on a solo musical career, she spent a decade as the fiddle-playing frontwoman of HoneyHoney.
In this episode, Suzanne discusses:
-The power of podcasts, especially Joe Rogan and Duncan Trussell.
-Feeling like an imposter at the Grammys.
-How it's just as important to not write as it is to write.
-Honoring the process when you are getting constant inspiration because it's not always there.
-Branching off from Honeyhoney to create her first solo album, "Ruby Red."
-Working with Butch Walker and having complete freedom.
-How she knows what songs are ready to be brought to the table.
-Working with John Spiker on her new album, "Yard Sale."
-Shedding catholic guilt.
-Where she finds inspiration when it is lacking.
Suzanne's Final Push will remind you to be kind to yourself (and to also be a badass)!

Quotes:
"You truly get back what you put out there and when you put all this love, hard work and sweat into your passion, you have to sit back and let it come back to you."
"You have to be out in the world to find your inspiration."
"The departure from Honeyhoney was like leaving the womb."
"Get it out there.  The world needs you.  We need to be inspired.  We need to inspire each other."
"If you are called to be creative but you're too scared to do something about it, you're doing other people a disservice."
Links mentioned:
David Bowie & Mick Jagger – Dancing in the Street
Connect with Suzanne:
Website / iTunes / Spotify / Facebook / Instagram / Twitter
On the next episode:
James Gurney : Website / Instagram / Blog