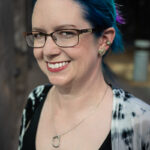 Mur Lafferty is the author of Solo: A Star Wars Story and the Hugo and Nebula nominated novel Six Wakes, The Shambling Guides series, and several self pubbed novels and novellas, including the award winning Afterlife series.
She is also the host of the Hugo-winning podcast Ditch Diggers, and the long-running I Should Be Writing. She is the recipient of the John Campbell Award for best new writer, the Manly Wade Wellman Award, the Best Fancast Hugo Award, and joined the Podcast Hall of Fame in 2015, its inaugural year.
In this episode, Mur discusses:
-Why she started her podcast, I Should Be Writing.
-Rejectomancy and over-analyzing what a rejection might mean.
-Why she doesn't read comments or reviews.
-Dealing with the self-doubt bully.
-Trusting yourself and trusting "the people in the basement."
-The way in which your creative resolutions never have an ultimate failure or success – they are ways of life.
-Getting more "experience points" for failing than succeeding.
-Not just setting one goal, but multiple specific goals.
-"The Magic Spreadsheet" and gamifying daily word counts.
-The experience of writing Solo: A Star Wars Story.
-How she gets past difficult moments in writing.
-How her creative life didn't start until she started taking care of her mental health.
-Dealing with depression as a writer.
-Taking up the violin as a hobby.
-How she uses a random number generator to help guide her on which task to do next.
Mur's Final Push will remind you of the only rule in writing or any other creative pursuit: DON'T QUIT!

Quotes:
"We're always ruder to ourselves than we are to anyone we love."
"What can you accomplish today? Don't worry about tomorrow.  Don't worry about yesterday.  You can't fix either of those.  One is not broken and the other is unreachable."
"Often times if I try to force my brain to think up new story, it will flatly refuse."
"If you think you need to suffer to create art, I wonder why your art is more important than your wellbeing."
Links mentioned:
Solo: A Star Wars Story by Mur Lafferty
The Secrets: The podcast for serious writers!
Connect with Mur:
On the next episode:
Kasey Golden : YouTube / Instagram