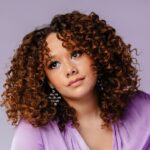 Talia Jackson is an actress, model and singer.  She is a series regular on Netflix's Family Reunion (which won an NAACP Award for "Children's Program") and ABC's Station 19.  With productions all on hold, she's focusing on her music career and is producing / release music directly from home.
Her first two songs, "Complicated" and "5Five" are available on Spotify.
In this episode, Talia discusses:
-How she first got into modeling and acting.
-How she originally turned down Family Reunion.
-Why our biggest victories often come when we are about to give up.
-The way that the less we care about the outcome, the better we often do.
-Why she had to leave Instagram.
-The advice that Tia Mowry gave her about being a mixed actress and not worrying about what other people think.
-Her current relationship with social media.
-What quarantine has been like for her creative endeavors.
-The role that singing has played in her life.
-How she defeats perfectionism.
-How she honed in on her style of writing music.
-How you are the only one who is going to be able to try your dreams, so just do what makes you happy.
Talia's Final Push will encourage you that your opportunity will come, you just have to keep pushing!

Quotes:
"It terrified me that maybe I had worked so hard for something that just never was going to work for me."
"For some reason life always wants to give me exactly what I need and what I want when I'm at my breaking point.
"When you really don't care about something, for some reason the universe is just like, "Here you go, you can have it."
"Singing had always been the little side character in my life."
"Do it for you.  It's your life and the only person who is ever truly going to care about you and take care of you forever is you.  So do what makes you happy."
Links mentioned:
Connect with Talia:
On the next episode:
Xabio Arts : YouTube / Instagram / Twitter