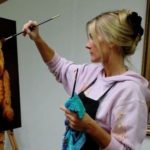 Sandra Busby is a still life artist who paints in a contemporary style using traditional methods.  Inspired by the ordinary, she strives to capture the playful light in glass and other still life with her paints.
Feeling stifled by the modern way of teaching, Sandra turned her back on art school, shut herself away and studied the traditional methods of painting.
Her work has since been published multiple times, she won her first award in 2016 and her paintings can now be found hanging in private collections around the world.