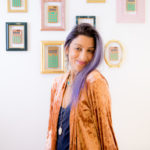 Vanessa Vakharia is the Founder and CEO of The Math Guru, a boutique math and science tutoring studio in Toronto with a unique approach that works – like actually!
She is also the co-founder of Goodnight, Sunrise, an indie-rock-and-roll-superfun-party band based in Toronto, Canada.
Vanessa is also the author of Math Hacks, which is designed for kids (and their parents) struggling with math anxiety and looking for a new approach to homework, studying, tests and marks.