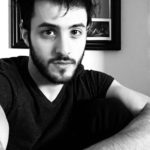 Alexander Soukas is a contemporary realist painter from Denver, Colorado.  His serious training in the fine arts began upon attending the Walnut Hill School for the arts, one of five high schools in the country dedicated to rigorous training in music, ballet, theatre, writing, and visual arts.
Unsatisfied with his studies, and desiring to pursue a career as an artist, he began homeschooling as a way of earning his diploma while undertaking an apprenticeship with realist figure painter Jason Polins.  Soukas studied traditional painting and drawing in Boston with Polins for 4 years, where he now visits as a guest instructor at Polins' atelier, The Boston School of Painting.
After high school, Soukas studied with scholarship, at the Pennsylvania Academy of the Fine Arts in a coordinated program with the University of Pennsylvania for a year before leaving to seek a more rigorous classical training at Studio Incamminati.  While there, he worked for and studied under Nelson Shanks as one of his last apprentices.