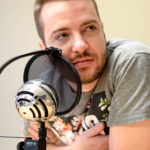 What can we, as creative people, learn from millionaires?
In this episode, Youngman Brown cherry picks five of the best investment tips given by millionaires and financial gurus, and applies them to the creative process and your creative journey.
All of these tips are simple mindset shifts that will drastically affect the way that you see the time, pain, and daily effort that you put into your creative passion, and how it will exponentially benefit you in the future.
The goal is to see that you are going along an exponential creative curve, and the more daily deposits you make to that account, the quicker your gains will be multiplied.
Here are the five ways that you can exponentially increase your creativity: