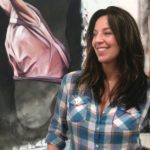 Aimée Rolin Hoover is a contemporary animal painter who is originally from Philadelphia, PA but currently lives/works in southern California.
Whether her subject is a canine, cow or a black rhino, her hope is that her work offers the viewer—in some small way—what animals have the power to do in person: to inspire us to be exactly where we are in the present moment. A space in which we don't necessarily have to think or understand, but instead feel and connect.
Her paintings hang in collections all over the world, from the U.S. and Canada, to Europe and South America.