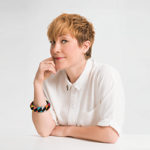 Miss Led aka Joanna Henly is an artist, illustrator and art director based in East London.
As an artist Jo works from portrait commissions to large scale complex works, this work is often in public spaces or a live performance as part of an event – or she is the event, also creating portraits of guests of responding to a gallery or theme. In addition she creates personal work which is exhibited globally, as well as selling prints online.
Jo is also the author of two new books,
Portrait Drawing
and
Figure Drawing
, which are pocket-sized approaches to explaining concepts that will have you looking and learning with step-by-step illustrations.