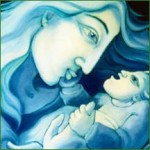 Angela Treat Lyon is a prolific sculptor, painter, and writer who lives and works in Hawaii. She is an EFT trainer and practitioner, as well as the host of Dreamers Radio, found at IDareYouRadio.com. She is the author of many books such as Change Your Mind with EFT, as well as a new series of coloring books called Mandalas for Meditative Coloring.
(Part 2 of the interview can be found here)
In this episode, Angela discusses
-One of her first creative moments, involving National Geographic and Tibet.
-How teachers can actually be detrimental to creative spirit.
-How a childlike rebellion can translate into an adult rebellion.
-How a sailing incident nearly sent her to her death.  And what that incident made her think about her life.
-How you should make a list of what you don't want to miss out on in life.
-How people with "real jobs" are in a dangerous situation.
-How your brain will crave your creative habits once you start them.
-How a series of "sucky" creative attempts will make the first great one feel that much better.
-Why she prefers the word "Hesitation" over the word "Resistance."
-How her suicidal tendencies were destroyed by the practice of EFT.
-How one of her biggest turnarounds was realizing that marketing was about the customer, not about the seller.
-How people want to connect with the source of your creativity rather than you personally.
-Art is a connection to Source.
-Sculpture and architecture are the only things that last after civilization ends.
Quotes:
"Would I be happy with myself, if I was there floundering out there in the water, about to die?  Would I be happy with myself and my life?  And its become the defining question of my life.  If I'm offered to do something and I say no to it, later on, as I'm on my way out of this lifetime, am I going to be happy with myself?  Am I going to be pleased that I said no to that opportunity?"
"You have to ask yourself, 'Can I have the self-discipline to add a half-hour of sitting down and being with my calling per day?'"
Links mentioned:
eftineveryhome.com (Free Demo for getting started with EFT)
Angela's free coloring book pages (Click on "Goodies")
Tony Laidig's Expert Media Series
Youngman Brown's Words + Music
Connect with Angela
Website / Coloring Books / Books / Facebook / Twitter