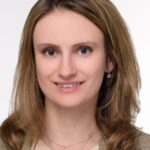 Yana Zorina, Ph.D. is a neuroscientist with a lifelong passion for the arts.  In her scientific career, Yana has always been attracted to microscopy as a means to take a closer look at the beautiful structures that compose the mammalian brain.
In her microscopy-inspired artwork, she uses her neuroscientist training to accurately recreate scientific images into 3D-beaded renderings of cellular structures to bring the beauty of scientific research to a wider audience.  In viewing beads as analogs of pixels observed on a screen, Yana turns microscopy on its head by transforming ultra-thin optical sections into 3D structures.
Beyond being passionate about the breathtaking beauty of microscopy images, Yana uses them to serve a greater purpose of communicating science to a wider audience and initiating conversations on difficult topics, such as neurological conditions.