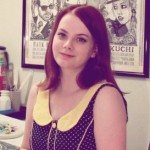 Kelly McKernan is a fine artist and illustrator from Atlanta, Georgia, currently based in Nashville, Tennessee. Kelly has been exhibiting her work with numerous galleries since 2009, including Thinkspace Gallery, Gallery 1988, Young Blood Gallery, and Beep Beep Gallery. She has also illustrated three children's book to date. Kelly is also a member of the PRISMA Artist Collective.
In this episode, Kelly discusses:
-What it is like to be a mother and an artist at the same time, and where she finds time to do her work.
-She plans out her work much more now.
-How going into art without an intention can lead to you searching quite a bit, and planning out a good portion of it beforehand will lead to a final result more quickly.
-How sleep is usually the first thing to be sacrificed.
-Attempting to determine whether or not mulling around an idea in her head is laziness or simply working the idea out to a more complete form before starting.
-How things like "Bioshock Infinite" can completely absorb you if you are not careful, and how it is important to carefully choose things like video games before you start ("Transistor" worked for her).
-Her worst creative moment, having to do with getting a job as a pre-school teacher, but how it taught her what she doesn't want.
-How drawing is a skill, and when you stop doing it for a while, you lose some of that skill as well as your confidence.
-How much of her work is considered "fan art," but it is just her getting the things that she loves out of her system.
-How she took the reigns herself with "30 paintings" when she didn't feel like she was getting what she needed from her college education, and came out of it with a full portfolio (unlike many of her classmates).
-You don't have to go into debt to learn what you want to learn.
-How she draws inspiration from annuals like "Spectrum."
Kelly's Final Push will inspire you to choose the path that makes you the happiest!

Quotes:
"I'm just going to give myself four days to do something that is not creating, but still stimulating."
"It's a muscle.  When you stop using it, you forget pretty quickly how to properly use it."
"Even if you are binge watching something, that's totally cool.  But be inspired by it."
Links mentioned:
–Are You a Procrastinator or an Incubator? (CNN)
–"On Being an Artist and a Mother" (blog post by Kelly McKernan)
–"On Being an Artist and a Mother – Year Two" (blog post by Kelly McKernan)
–Transistor (video game)
–Bioshock Infinite (video game)
Connect with Kelly:
Website / Blog / Facebook / Instagram / Twitter