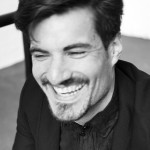 Alex Cherry is an LA-based digital artist who blurs the lines between art and design.  He draws his inspiration from film, music, and pop culture to make stunning images that will always make you think.
In this episode, Alex discusses:
-The story behind his piece, "Starman" a tribute to David Bowie.
-Art versus design, and how we don't watch design the way we watch art.
-How to pursue your creativity by leaning on what you know, and for him that started with music.
-His first creative moments and his creative journey from there.
-How incredibly amazing the Teenage Mutant Ninja Turtles and Nintendo are.
-How we are lucky to live in the time of the internet, and we should immerse ourselves in how easy it is to share and find new things.
-Kanye West and his polarizing character.
-Bret Easton Ellis's idea of "Post Empire."
-How many people have separate selves that they put forth on the internet.
-How having a character or a persona can give you a confidence you don't have with your actual identity.
Quotes:
"It's always these pictures that take the least amount of effort that resonate the most with me, and other people."
"I love music, and for me it was an easy thing to do, to piece something together and to find a song to connect that to."
"We have the Internet and tumblr.  Just immerse yourself in it and don't be afraid to take inspiration from it.  Be ruthless about that."
"The creative world is the exact opposite of the real world."
Links mentioned:
Connect with Alex:
Website / Facebook / Instagram / Twitter