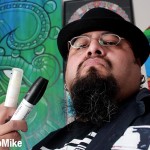 Daniel Flores aka DTM aka Da Creative Genius, is not just a man of many names, but a man of many talents.  These talents include graphic design, drawing, painting, and tattoos.  Daniel also hosts the Art is King podcast, where he interviews other artists about their craft.
Be sure to check out Part 1, here!
In this episode, DTM discusses:
-The importance of branching out and trying new things so that you don't remain stagnant, doing the same thing over and over.
-Setting aside time in your calendar to do your creative work.
-What he tells his children about art.
-Keeping your job but just trying art for the love of it.
-How art is not a get-rich-quick scheme.
-The value of finding an art mentor.
-His most difficult story when he lost a year's worth of art and work.
-How he handles it when people steal his art.
Quotes:
"Every drawing is just a chance for you to be who you want to be."
"I'm dedicated to my gym.  And my gym is pencil and paper."
Connect with DTM:
Website / DaCreativeGenius / Facebook / Instagram /
Art is King:
Website / Podcast / Instagram / Twitter