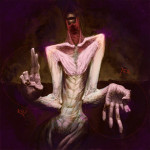 Matthew G. Lewis (aka Lostkeep) is an artist whose work is both terrifying and beautiful and mesmerizing.  Born in the Deep South, entangled in the kudzu of ignorance and fear, Matthew seemed destined for a lifetime of servitude and devotion.  However, The Devil had sanctified him for lower purposes.  Our Lord Insubordinate used Matthew's years at Savannah College of Art and Design as a petri dish for culturing a blight of reason and suspicion that would soon wither Matthew's holy heart.  Currently, Matthew festers away in Seattle, WA whilst conjuring images with his loathsome tools of pencil and brush.
In this episode, Lostkeep discusses:
-Coming from a fundamentalist Evangelical background and how that affected his upbringing and his art.
-His fascination with the Book of Revelation and how that type of imagery speaks to more people.
-His fascination with prehistory and language.
-Drawing pictures of angels versus demons as a kid.
-The conflict of feeling guilty for reading comics but resolving that by drawing violence himself.
-How his art is less about the shock value and scaring people, and more about making a genuine connection with people of similar upbringing.
-The importance of learning other worldviews, and how oftentimes that can come through podcasts.
-How he quit his job and went to freelance work
-His advice for people who want to create something that is considered out of the "norm."
-How his past year has been the most difficult for him creatively.
-How writing without a filter helps to give him an outlet and to analyze his thoughts about things.
-How cutting coffee out of his life has made him much more even-keeled.
-How connecting with another artist can really help to give you courage when you can connect with their message and journey.
-How he quit his job after hearing a compelling episode of a podcast.
Lostkeep's Final Push will inspire you to fight against the world if the world doesn't want you to succeed.

Quotes:
"I had family members that saw my work and said "I couldn't sleep that night after I looked at your work."
"Get out of your comfort zone.  Talk to people that think the exact opposite of what you think."
"I don't want to look back and think, 'what would have happened if I had just kept going with this stuff?'"
"I just don't stop."
Links mentioned:
Brom (illustrator)
Your Dreams, My Nightmares Podcast
Connect with Lostkeep:
Website / Facebook / Instagram / Twitter / Behance