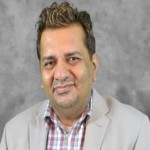 Suresh is a gifted public speaker, the host of the daily podcast BlissHacker Radio, and the author of the upcoming book "Be". He is also a contributing writer to the Good Men Project. In addition to this, Suresh is a talented composer.
In this episode, Suresh discusses:
-How he doesn't fit into a particular category except for "creative."
-How you question everything when you go through something like a divorce.
-How hearing Robert Rodriquez talk about how he doesn't know how to do the things he does but just jumps in and does them anyway really affected him as a creator.
-How people want to edit as they go, but how we can learn from children, because they just keep going and figure out the "editing" later.
-His advice for people who are afraid of just jumping into some creative pursuit because they think that they will be terrible.
-His method of "crowd-sourcing" for things he doesn't know how to do.
-What he means when he describes himself as "limitless" in terms of being able to connect with people around the world with a greater knowledge.
-Finding "warp pipes" to get ahead, by contacting people who have already been down the path that you intend to go down.
-The importance of knowing how and what to Google.
-Neuroplasticity and the way your brain changes every time it learns something new.
-The power of YouTube when you are trying to learn something.
-Advice to not be so rigid, and to keep exploring to find ways to get your creative message out if you happen to not be very good in one particular discipline.
-Tips for achieving a flow state (safely) with your art.
Suresh's Final Push will inspire you to move someone else with your art.

Quotes:
"The root skill is being creative."
"The only question that people have is, "Who am I?"
"You don't have to know anything.  You just be."
"People feel that they need to know before they do, and that limits them because they realize how much they don't know."
"I'm not limitless, but I know how to connect with all the people on this planet.  And since I know how to do that, there is no limit to me."
"The vision is more than myself."
"I want you to think as if the entire world was your oyster and everybody on it was on your team.  Now think what you can do with that, because that's the truth."
Links mentioned:
–Robert Rodriquez on The Tim Ferris Podcast
–The Rise of Superman: Decoding the Science of Ultimate Human Performance by Steven Kotler
–Download Suresh's song "Exponential" for free on Soundcloud! (5th button over)
Connect with Suresh:
Blisshacker / Facebook / Instagram / Twitter / E-mail!