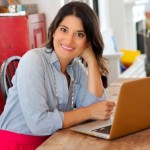 Jessie is an award-winning blogger, screenwriter, and freelancer who just published her first novel DEAD RINGER. She also created and runs the monthly storytelling series, Sunday Night Sex Talks, which features racy tales by real people and offers a No Boys Allowed as well as a Co-Ed version of the show.
In this episode, Jessie discusses:
-Her background before she got into all of her varied creative pursuits.
-How and why she started Sunday Night Sex Talk and the differences between the Co-Ed and No Boys Allowed versions of the show.
-How she still gets nervous about having a sex talk show
-The "vow of silence" that all of the people at the show agree to take.
-How many of the first shows were only attended by a handful of people and how she was able to power through that discouragement.
-Her suggestion to people who are starting out with a very small audience, to ask people for help.
-The power in asking for specific help and knowing what to ask when reaching out to others for assistance.
-How she started her blog because she wasn't given any assignments and still wanted to create a body of work so that she might be given a chance once people saw that she could write.
-Her inspiration for writing "Dead Ringer" and the challenges that it presented to her.
-One of her useful tactics to get more things done, by purposefully giving herself less time to finish a project so that she doesn't try to make it too perfect.
-Her strategy for balancing her day as well as her time in general.
-How putting too much pressure on yourself ends up leading to zero productivity.
-How working on more than one project at one time is not necessarily a bad thing, as you can flip flop and remain fresh.
Jessie's Final Push will inspire you to spend the small amount of time NOW so that an EXPLOSION of ideas might be sprouted.

Quotes:
"I'm still nervous to have a sex talk show."
"We would have shows where there were five people in the audience."
"It does take time, and also really believing in it."
"I try to make the blog about coming of age at every age."
"I was just a girl who wanted a byline and nobody would offer that opportunity
"Blogging has been this way for me to consistently develop and find and re-find my voice.  Because my blog writing is as pure me as it gets."
Links mentioned:
"Dead Ringer" by Jessie Rosen
"Daily Ritual: How Artists Work" on Amazon
Connect with Jessie:
Website / Facebook / Instagram / Twitter