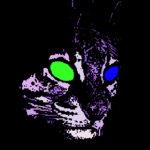 Skoddie is an experimental musician whose style spans multiple genres, but always focuses on atmosphere and mood. After a 6 year hiatus, they rediscovered their creative voice and released two albums and one EP in 2015. Today, Skoddie continues to produce music, and is also a founding member of the Unredacted online art collective.
In this episode, Skoddie discusses:
-Details about the new Unredacted online art collective, including why they started it.
-How there isn't anything on DeviantArt with a specific female and queer vibe, and how that is one of the goals for Unredacted.
-The importance of getting things started and letting them grow organically.
-Their history and first experiences with music.
-The scientific audio analysis techniques that they used to begin creating experimental music.
-How, like Jackson Pollock, Skoddie has intention behind what might seem to be unintentional music.
-Creating all of the music, and then the review process where they listen to the music and determine whether or not it moves them.
-How many artists and creative people feel as if their artwork is scarce, and how it doesn't have to be that way.
-How artists make their best work when nobody has heard of them, and the power that can come from tricking your brain into thinking that nobody will ever see what you are making.
-The importance of being able to ride the rollercoaster that is being a creative person.
-One of their hardest times when attempting to start a Kickstarter campaign that fell short of the goal.
-The importance of learning from your failures.
-One of the main goals of Unredacted to be able to showcase queer artists and focus on their artistic talent and voice instead of their queerness (like traditional media does).
-Their plans to potentially take over late-night television advertisements and fill it with art!
Skoddie's Final Push will inspire you to FINISH YOUR WORK (so it can be around for the rest of time).

Quotes:
"If you do all this planning but you don't actually get anything off the ground, you've got nothing."
"I got back into it in the least musical way possible."
"As long as I have some type of artistic vision behind it, I remain passionate about it."
"Just make stuff.  Make a ton of stuff and let it be bad.  In that sea of bad, you'll find some wonderful gems."
"I just feel like every time I fail, it makes me more savvy."
"Creating content is a much higher priority than building an audience."
"We all want to say we're going to quit our day jobs and be cool art people.  And that's fantastic.  But we don't make the art to feed ourselves.  We like to eat and we like to make art."
"There are a good amount of female artists out there but there are very few queer artists.  And the few that there are are upheld for their queerness but not as much for their artistic talents."
"We all have a stack of unfinished work but it's really special to be able to say, 'Hey, I made this.  This is going to be here for the rest of time.'"
Links mentioned:
Unredacted Online Art Collective
Theory of Obscurity: A Film about The Residents
Connect with Skoddie:
Facebook / Soundcloud / Bandcamp