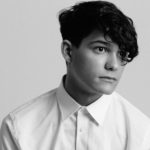 Brandyn Burnette is a progressive soul producer/singer-songwriter from St. Louis, Missouri currently living in Los Angeles. This self taught, 3rd generation musician has crafted his own sound and style that has begun to takeover the pop underground world from the inside out.  He released his first EP "Made of Dreams" in 2015, and his latest EP "State I'm In" comes out on June 24th, 2016.
In this episode, Brandyn discusses:
-The difference between State I'm In and Made of Dreams, his first EP.
-How the titles of his records are self-explanatory and their significance.
-The story behind his song, "State I'm In" and the serendipitous discovery of something that he wrote when he was fifteen.
-How each of the songs in State I'm In were lyrically created in different ways and how he learned to stay open to different ways of writing songs.
-The role that destiny plays in his life, as well as the new record.
-The freedom that he felt after leaving his first label, when he was the only person listening to his songs and he could do it for himself.
-The power in listening to your heart over your head, and especially over what other people tell you.
-How important it is for him to take both the positive and negative aspects of his life and put them into his music, and how all artists should be attempting to do the same.
-How we are constantly putting the best version of ourselves online and creating a persona that is in contrast to who we actually are.
-The story of his American Idol audition, and why he decided to leave the competition.
-The story behind his song "Karma."
Brandyn's Final Push will inspire you to take baby steps and never give up!

Quotes:
"I wanted to reign in the sound with this one because I felt like I figured out what I wanted to say as an artist."
"This project really made me feel like an artist moreso than the last one."
"It was really an exciting time to go back and find some lyrics from the past that were wiser than what I could have written now."
"We go through these things as people, and we're always trying to figure out where we're at and who we are.  But if you have faith that you're going to get there, it reveals itself."
"Continuing to write and to not need any validation but myself — those completely saved my artistry."
"When I was at Warner, I learned who I wasn't.  I learned who other people wanted me to be."
"Stay authentic to what's in your heart.  At the end of the day, that leads you better than your head and your gut."
"I used to write as if I had no problems.  I used to try to cover up every bit of my sadness in my music."
"Take whatever is in your life, whether it is positive or negative, and heal from it through the music."
Connect with Brandyn:
Website / iTunes / Spotify / YouTube / Soundcloud / Patreon / Facebook / Instagram / Twitter