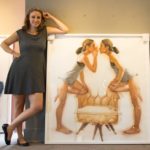 Jane Radstrom is a figurative painter from San Francisco, CA. She is known for her unique pastel portraits of people depicted with multiple poses layered over one another, so that they appear to be moving.  Her work is shown in galleries across America, and has won awards from The Portrait Society, The Pastel Society of the West Coast and Pastel Journal Magazine.
In this episode, Jane discusses:
-Her upcoming move to Berlin.
-A look into what she does as a painter and how she got to her current situation as an artist.
-How she goes about making the double exposure portraits with models.
-The role that her photography plays in the creation of one of her portraits, and how she has to sometimes make an effort to not employ all of her creativity during the shooting so she can still make decisions during the actual painting.
-How the double exposure portraits came to be, almost accidentally.
-How she tries to use an introverted moment and an extroverted moment in her double exposure paintings.
-How one of her concerns is that she wants her work to be important and express something necessary to society and art history and how she has had to let go of that pressure.
-How she wants her art to respond to the time in which she lives.
-The formula that she gives her students to combine elements of other genres and medias that they love into what they are creating to give it an original spin.
-How she sometimes tries to work everything out in her head and refine it instead of just starting and figuring it out as she goes.
-Her advice to avoid paralysis by analysis.
-The value of authenticity, and how people are able to easily recognize when you care about what it is you are making.
-One of her most triumphant creative moments, when she just decided to e-mail her favorite gallery to try to get her work hanging there.
-Her formula for balancing her time.
-How incredibly difficult it is to be a professional artist.
Jane's Final Push will inspire you to set a clear goal and determine what it is what you want as an outcome from what you want to achieve with your art and creativity.

Quotes:
"I really like to try to work fast because if I slow down too much then I'll chase unnecessary details.  Working quickly helps me try to go for feeling or mood instead of pure accuracy.  The faster I can do something, the better the final result is."
"For me, the difficulty that I've always had is that I want my work to be important."
"Instead of waiting for genius or waiting for this perfect, fully-formed idea, I've found that it's more important for me to just do work.  Develop the idea as I produce work and then hopefully bring it towards something which at least is important to me personally."
"I don't know how to get inspiration from the outside world.  The longer I wait, the less inspired I am to paint.  Momentum goes in the wrong direction.  Whereas the more I paint, the more inspired I am and the more ideas I have."
"It started to turn around when I decided that if I wasn't selling any paintings anyway, I might as well just paint whatever I wanted."
Links mentioned:
New Masters Academy on YouTube
Connect with Jane:
Website / Facebook / Instagram / Twitter