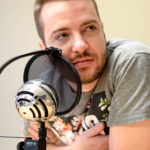 A magical solo episode.  Oh my.
But seriously, this is about magic.  Or at least Youngman tries to convince you so.
What you'll get from this episode is some amazing looks back to previous episodes and then Youngman trying to make sense of the awesomeness of them.  Namely, he tries to bring it all back to the magic that happens when you decide to do something and you tell the Universe that you're going to do it.
Saying what you want is all you have to do.  So do it.
YCP Episode 26 with Gwenn Seemel
YCP Episode 54 with Nathan Carson
YCP Episode 90 with Ashley Elliott
YCP Episode 109 with Eyoälha Baker