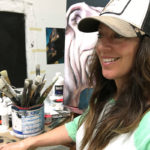 Originally from Philadelphia, PA, Aimée Rolin Hoover currently lives/works in southern California. Her paintings hang in collections all over the world, from the U.S. and Canada, to Europe and South America.
In this episode, Aimée discusses:
-How she got into pet portraiture and how her art has evolved since then.
-The importance of being open to trying out new things with your art.
-How she achieved such great satisfaction from the positive reactions of her clients, but how she eventually had to concentrate on her own satisfaction.
-Ali Cavanaugh and making "micro evolutions" in your artwork.
-The importance of continuing to grow and evolve as an artist or creative person.
-The origins of her new Fly Mask series.
-The joy that comes from having a breakthrough after long periods of trial and error.
-Her "30 Paintings in 30 Days" Challenge and the numerous positive outcomes of it.
-The power in committing to do something in public and how it holds you accountable.
-The various Resistances that she has to face and how she handles them.
-The trick of cutting your big tasks and projects in halves until they are in manageable chunks that you aren't intimidated to take on.
-The way that she attempts to battle perfectionism.
-Her upcoming show at Abend Gallery.
Aimée's Final Push will inspire you to take time every day to do the thing that brings you joy!

Quotes:
"I think it's so important to grow as an artist and I kind of forgot about it for ten years."
"I got really happy, really fast with that work."
"I was really feeling equally incredibly inspired and completely fed up with my work."
"And so I thought this is kind of the next phase of work for me.  I want to continue to move away from what I know and go towards what I don't know and see what happens."
"If it brings you joy, it's just worth it to take a little time every day and do it."
Links mentioned:
2016 "26 Annual Holiday Miniatures" Show, Abend Gallery, Denver, CO (December, 2016)
YCP Episode 123 with Ali Cavanaugh
Connect with Aimée:
Website / Facebook / Instagram / Twitter