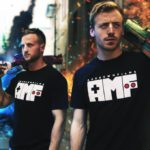 Seth and Andrew McMurry (Nukazooka) have been producing high-quality action shorts since 2011.  Their polished films, riddled with special effects bring to life both current and nostalgic characters and worlds, like Super Mario Brothers, Pokemon, Roller Coaster Tycoon, Darth Vader, Buzz Lightyear, Minecraft, and Legos, just to name a few.  To date, they have well over a million subscribers and over 350 million views on Youtube.
In this episode, Nukazooka discusses:
-Their creative history and what made them to making the Nukazooka channel.
-The idea of making shorter videos, knowing that their audience on YouTube tends to prefer shorter content.
-The advantages of keeping a small, family-like crew.
-How all of Nukazooka's videos started out as a question of "what if?"
-Where the "dark" aspects of their videos come from and their intentional contrast to the happy-go-lucky type of worlds that they use as the setting.
-The idea of competition and how it doesn't need to be perceived as competition, rather, shared growth.
-The importance of staying grounded and being inspired by the fans that are inspired enough to create something because of them.
-Looking back at the following that you have gained and making sure to be appreciative of how far you have come.
-The importance of consistent, quality content.
-Staying familiar, but adding a twist.
-Not wanting to stay stagnant as creative people and as filmmakers and wanting to think bigger.
-The actual process of creating one of Nukazooka's videos.
-Andrew's process of editing after everything is filmed.
-Nukazooka's doubts after filming "Mario Underworld."
-The strategy of working on the beginning and the end first and then working the middle afterwards.
-Spending so much time on a particular project that you don't know if it is good or bad because you are too close to it for too long.
-Dealing with haters.
-Treating their characters lovingly.
Nukazooka's Final Push will inspire you to do what you love and keep producing consistently.

Quotes:
"I never wanted visual effects to be a thing that identifies us."
"We pride ourselves in the quality we put out and I feel like that's what our fans expect, which is what we like.  We start with the story first and then enhance them with the effects."
"We try to do a lot with very little.  Simplicity is super-underrated."
"I want people to be successful.  Because that's what I would have wanted when I was starting out."
"It was always important to us to make sure that we loved the videos, first and foremost.  That we made videos that we would want to watch."
"Every single upload we try to learn something new."
"Editing is very important.  Editing can really make something great."
Links mentioned:
Connect with Nukazooka:
Youtube / Facebook / Instagram / Twitter