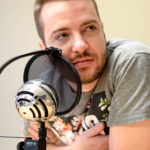 Are you scared to create some of the ideas that pop in your head?
Are they too big?  Too small?  Already been done?  Never been done?  Don't know how to do it?  What will people think of you if you created this scary idea?
In today's episode, Youngman takes a look at the reasons why you never seem to get ideas, why you might be too scared to bring the ideas that you do get into existence, and the five EASY steps to change that pattern.
Get the courage and creative inspiration to finally start creating those scary ideas!
Quotes:
"Ideas are fleeting.  They're like dreams — if you don't have a habit of writing them down, you will totally forget them."
"Ideas come with excitement.  You get that idea and sometimes your heart can skip a beat.  That excitement can really spur an idea on, kind of like hitting a ball up in the air with a paddle.  That idea has a life and a movement to it.  So keep hitting that ball and keep it moving before that excitement disappears."
"Let the idea take you for a ride."
"That transition from a thought in your mind to a thought written down on paper is harmless.  It is not going to kill you if you write down a stupid idea."
"You never know where those ideas are going to take you.  You've just gotta let them take you somewhere."
Links mentioned:
YCP Episode 187 with Tom Harold
YCP Episode 40 with Julie Zantopoulos
YCP Episode 188 with Kelly Killagain
YCP Episode 186 with Andrew T. Kearns
YCP Episode 139 with Lisa Congdon
On the next episode:
Ann Rea : Website / Making Art Making Money