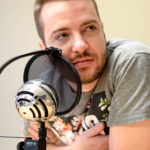 Are you upset with who the country chose to be the President of the United States?
Does watching the News make you scared?
Are you spending all of your time getting into political debates?
Do things like poverty, global warming, inequality, and potential war make you want to curl up into a ball and hide?
When the world around us seems too big, too depressing, and too scary, creative people can sometimes go into hibernation mode.  Long lulls in our creative output come when we get sucked into all of the problems that the world faces.  Most of them just seem too big for us to try to face, so we simply don't do anything.
But it is our duty as creative people to battle these problems by changing culture at its source.
Us.
In this episode, we listen back to previous guests who have also been overwhelmed by the scary world that they live in and who have battled back to make a positive change.  Youngman will try to make you realize that you don't have to have an enormous audience to make a change with your voice.
By contributing to the conversation with your art, you can change the world.
Links mentioned:
YCP Episode 210 with Thomas Dodd
YCP Episode 213 with Martha Beck
YCP Episode 109 with Eyoälha Baker
YCP Episode 170 with Peter Draw
YCP Episode 86 with Cinzia Angelini
YCP Episode 92 with R.M. Kavanaugh
YCP Episode 143 with Richard T. Scott
YCP Episode 192 with Kate Shaw