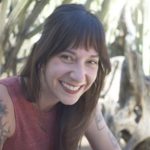 Amy Kuretsky is a health coach, acupuncturist, and herbalist with expertise in traditional Chinese medicine, digestive health, and a wide variety of nutritional plans.  She coaches creative entrepreneurs to be their healthiest selves and to tap into the energy that is the source of everything we do.
Amy also hosts Health Fuels Hustle, a podcast all about living a healthier life as a creative.
In this episode, Amy discusses:
-How she came to be an acupuncturist and a health coach for creatives.
-How she got off of all the drugs that she was taking for an autoimmune disease.
-Her advice for creative individuals like Youngman who suffer from burnout and let their health fall by the wayside.
-The importance of establishing our priorities and being aware of the fact that we say "yes" to too many things.
-Her method for doing a "brain dump" to rid yourself of the things that take up your energy but don't bring you money or joy.
-Creative entrepreneur's hesitancy to delegate.
-How "done" is better than "perfect."
-How breaking up larger tasks into smaller portions can be effective in overcoming the sense of overwhelm.
-Taking the quiet time to set a baseline for yourself with positive and negative thoughts and how they affect your body.
-How the biggest excuse she hears from creative entrepreneurs is that they "don't have enough time" to take care of themselves.
-The power of morning and evening routines and a glimpse into hers.
-Cell phones and the importance of keeping them away from the bedroom.
-Alarm clocks and setting reminders for yourself throughout the day to be present in the moment and to fill yourself with the warm feelings that your goals bring you.
-What acupuncture is and it's benefits.
-What people can expect from her podcast, Health Fuels Hustle.
Amy's Final Push will inspire you to recall the reason why you started your creative passion in the first place and to tap back into that beginner's energy!

Quotes:
"I found that so many creative entrepreneurs were burning the candle at both ends.  They had so much going on that they were letting their health fall by the wayside.  This was a community that really needed support when it came to their health."
"When it comes to our energy, our health, and fueling our hustle, it's all about building up our reserves.  So if we can do more of the things that we love doing and it brings us energy or joy, those are just as important as making money."
"Oftentimes what I see when it comes to creative entrepreneurs is that they really fear delegation."
"Done is better than perfect.  Perfect is a myth and so often we hold ourselves back from completing a project or putting ourselves out there because we don't think that either we ourselves or our work is perfect yet."
Links mentioned:
Amy's Pick Your Priorities Worksheet
Connect with Amy:
Website / Podcast / Facebook / Instagram / Pinterest / Twitter
On the next episode:
Christina Mrozik : Website / Instagram
What's something that you do to fuel your hustle?  Join that discussion at the Facebook group!