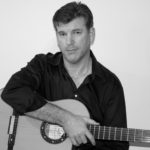 Al Marconi is a Spanish guitarist and composer who has been a professional musician since 1997. During that time has managed to notch up over 30,000 sales of his independently marketed self-produced recordings, Equilibrium (1997), Monument (1999), Esperanto (2001), Terra Nova (2007), Insomnia (2011), and his latest album, Alchemy (2015).
In this episode, Al discusses:
-His early musical inspirations growing up.
-How he initially was interested in heavy rock and heavy metal.
-The contributing factors in his transition from heavy rock.
-Patrick Woodroffe's advice to pursue what you're most passionate about, not what you can do best.
-The instantaneous feedback that you get from playing music and how that differs from drawing or painting.
-Being inspired by classical music, but also realizing that he didn't want to simply replicate what other people had created – he wanted to create himself.
-Being open to taking inspiration from many different sources and fusing it into your own style.
-How Alchemy was the first album that he made that contains music that he wants to listen back to.
-Creating what you want versus creating for money.
-How ideas are often not ready until the time is right.
-How musicians can make a living in a digital world.
-The challenge and the joy of busking in the street and why he still does it to this day.
-The differences between writing and performing.
Al's Final Push will inspire you to pursue the thing that you are passionate about – as long as you have a penny more than you need, then you will be okay.

Quotes:
"Music, like many of the arts, is a calling.  It's something that chooses you.  It's something inside of you and you just have to do it.  You don't think it through like a career."
"I was interested in creating and the guitar was purely the medium that I choose to use to create."
"The more things you try in life, the more fingers you put into a pie, the more chances you have of pulling out a plum."
"I remember one morning, two of my biggest hits came about in half an hour."
"I'm a very slow worker because I like to get an idea and I like to live with that idea for days, weeks, sometimes even months.  I like to let it tell me where to go rather than force it."
"I try to play every chord as though it is the first time I've ever played it, and that it might be my last."
"It's wonderful that we can inspire somebody or lift somebody's mood through visual or audio creativity."
"I think with any art, it's not meant to be hidden in a cupboard.  It's meant to be shared."
Links mentioned:
Sandra Busby on Your Creative Push
Connect with Al:
Website / Store / iTunes / YouTube / Facebook
On the next episode:
Joel Daniel Phillips : Website / Instagram
Share what you've created this week in the Facebook group!