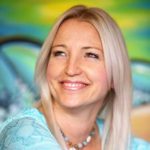 Maria Brophy has been an art agent to her husband Drew Brophy since 2001, and a business consultant to creative entrepreneurs since 2009. In her former life, Maria worked in the corporate world for two agonizing decades before she escaped the 9 to 5 grind. Since then, she's deliberately designed her life as a non-stop adventure, traveling extensively with her husband and two kids while surfing and backpacking some of the most magical places in the world.
Her new book, Art, Money & Success is a workbook of strategies for the full-time artist.
In this episode, Maria discusses:
-The experience of leaving her full-time job to help her husband, Drew Brophy, with his art career.
-How you can make a slow transition into a new creative career by cutting back your work week to three or four days.
-What led her to create her book, Art, Money & Success.
-Why it took her so long to start writing her book and why it took her so long to finish after she started.
-The procrastination (due to fear) that can come when we get close to finishing a project.
-The value in seeing it as a numbers game.
-Her advice to keep creating things without thinking about the reaction that people will have to it.
-The notion that success loves speed and how ideas have the best chance for success if they are explored right away.
-The power in writing down your goals, not only for your life, but for your day.
-Making monetary goals for yourself and then making the daily decisions that will lead you closer to them, as opposed to farther away.
-Knowing your value and asking to get paid.
-Ways that she and Drew have been unconventional in their approach to licensing and selling art.
Maria's Final Push will inspire you to realize that you are on your own unique path, and you shouldn't worry about the road that other artists went down.

Quotes:
"It wasn't that easy in the beginning, but it worked.  And I think being stubborn, hardheaded, and determined really helped."
"You can transition your way into a creative career.  You don't have to do it all at once."
"Create every day without thinking about who's going to buy it or who's going to want it.  Because when you're thinking that, it restricts your flow of creativity."
"You have to take action on things quickly.  You can't sit around."
"Often times those inspired ideas come within days or even hours of you making a declaration of something you're going to make happen."
"If you don't ask, you won't get paid."
"Your path is your own path.  Don't look at what other artists are doing."
Links mentioned:
Art, Money & Success: A complete and easy-to-follow system for the artist who wasn't born with a business mind by Maria Brophy

Amanda Giacomini's 10,000 Buddhas
Connect with Maria:
Website / Book / Facebook / Instagram / Twitter / YouTube
Share what you've created this week in the Facebook group!