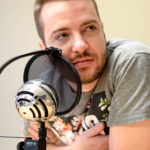 What can we, as creative people, learn from millionaires?
In this episode, Youngman Brown cherry picks five of the best investment tips given by millionaires and financial gurus, and applies them to the creative process and your creative journey.
All of these tips are simple mindset shifts that will drastically affect the way that you see the time, pain, and daily effort that you put into your creative passion, and how it will exponentially benefit you in the future.
The goal is to see that you are going along an exponential creative curve, and the more daily deposits you make to that account, the quicker your gains will be multiplied.
Here are the five ways that you can exponentially increase your creativity:
Invest in yourself FIRST.
Utilize compound interest.
Stop checking your accounts/stats.
Make multiple income streams.
Invest in your mind.
Quotes:
"What are those projects that you want to get to some day?  Ask yourself how many days have you been putting them off?"
"Invest in your creative muscles."
"Don't trust yourself to have time at the end of the month.  Do that thing right now."
Links mentioned:
Youngman Brown on The Idea Medic Podcast
Tony Robbins Warns "The Crash is Coming"
Art, Money & Success by Maria Brophy
On the next episode:
Joby Harris: Website / Instagram