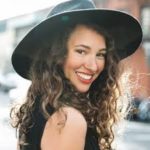 Amber Rae is an author, artist, and speaker whose work invites you to live your truth, befriend your emotions, and express your gifts.
Her writing blends raw, personal storytelling with actionable aha! moments and has reached more than 5 million people in 195 countries. Her public art has spread to more than 20 countries, and she's spoken to and collaborated with brands like Kate Spade, Apple, Amazon, and Unilever.
Her book, Choose Wonder Over Worry: Move Beyond Fear and Doubt to Unlock Your Full Potential is your official invitation to face your fears, wake up to your truth, and get to the source of what's holding you back.
In this episode, Amber discusses:
-Her journey of self-discovery.
-Always pushing herself to be honest and vulnerable in her book instead of being "safe."
-Choosing to focus on the people who love your work rather than the people who might not understand it.
-Being told from a mentor that her story "didn't matter" and how it affected her mindset and her output.
-The difference between "toxic" worry and "useful" worry.
-Using journaling to talk to your worries and other resistances.
-How and when perfectionism can actually be a good thing.
-How we stop ourselves from progressing or self-sabotage with upper limiting.
-How we are often afraid to lose our suffering because we are afraid to lose our excuses.
-Her suitcase analogy for people who say that they don't have enough time.
-How she felt while writing the book and how she feels now that the book is finished.
Amber's Final Push will inspire you to give birth to the thing that is dying to come out of you!

Quotes:
"Am I going to write the safe book or am I going to write the true book?"
"In order to be raw and vulnerable, that requires deep and profound honesty with yourself."
"You can think of worry as both an inner child throwing a tantrum as well as a parent trying to protect us at the same time."
"What are the excuses that you're telling yourself and how do you face them?"
"There is something inside of you dying to be born and you know it.  You feel it."
"What is that thing that is dying to come through you and how will you spend five minutes with it today?"
Links mentioned:
Gay Hendricks: The Big Leap: Conquer Your Hidden Fear and Take Life to the Next Level
Overcome Your Upper Limits (Article by Gay Hendricks)
The Artist's Way by Julia Cameron
Connect with Amber:
Website / Book / Facebook / Instagram / Twitter
On the next episode:
Jan Urschel : Website / Instagram