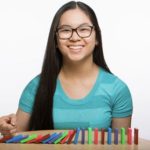 Lily Hevesh is a professional Domino Artist who produces weekly videos on her YouTube channel, Hevesh5, while also doing professional projects for companies, ad agencies, brands, schools, and others seeking Domino Art.
She currently has over 600 million total YouTube views and 2 million subscribers, making her the #1 most subscribed Domino Artist on the web.
Her videos have been featured on NBC, FOX News, Nickelodeon, CNN, CBS, MSN, the front page of Reddit, the front page of YouTube, and other various sources. She has also worked with Will Smith for the feature film, Collateral Beauty, as well as Katy Perry for the launch of her new album, Witness.
In this episode, Lily discusses:
-How she first got interested in domino art.
-The video that went completely viral, getting three million views in the first two days.
-The business opportunities that came as a result of her channel growing.
-How much planning goes into her elaborate projects.
-The method by which she makes complicated words, logos and images with dominoes.
-The way that she is able to limit the damage in case disaster strikes.
-The importance of learning from failures.
-How she learned to work the camera during the topples.
-The experience of working on Collateral Beauty with Will Smith.
-Being able to travel the world.
-The experience of working with other domino builders and people who understand "domino language."
-How she decides whether or not to play it safe or take risks with her tricks.
-The love/hate relationship she has with large live events.
-How posting content every week has given her a career (and also allowed her to cut down her perfectionism).
-Her plans for the future of Hevesh5.
Lily's Final Push will inspire you to fight for your creative life!

Quotes:
"Even though I do plan it, most of the magic happens when I actually start building and I can see it on the spot."
"I'm a mixture of hopeful and nervous as I'm putting down the dominoes."
"Failure is part of the process itself."
"When I have a deadline, it pushes me a little bit more to actually get things done."
"It's definitely important to be consistent, especially when you're posting online."
Links mentioned:
Connect with Lily:
Website / YouTube / Facebook / Instagram / Twitter
On the next episode:
Ahmed Aldoori: Website / Instagram / Youtube / Patreon