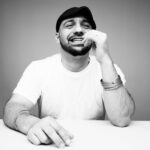 Daniel José Older is the New York Times bestselling author of the Middle Grade historical fantasy series Dactyl Hill Squad, the Bone Street Rumba urban fantasy series, Star Wars: Last Shot, and the award winning Young Adult series the Shadowshaper Cypher, which won the International Latino Book Award and was shortlisted for the Kirkus Prize in Young Readers' Literature, the Andre Norton Award, the Locus, the Mythopoeic Award, and named one of Esquire's 80 Books Every Person Should Read.
In this episode, Daniel discusses:
-What it was like to be a New York City paramedic.
-What the Jedi can teach writers when it comes to finding their voice.
-How the essence of being a writer is not what you've read in books but what you've experienced in your life.
-The importance of listening in writing and other creative pursuits.
-Making the transition from paramedic to full-time writer.
-Persevering despite Shadowshaper getting rejected 40 times.
-The support he received from Sheree Renée Thomas, Tananarive Due and Nathan Bransford.
-Writing the Other.
-Why we shouldn't italicize other languages.
-Using humor.
-The advice that changed the entire trajectory of Shadowshaper.
-Why everyone should write a book (but not everyone should publish one).
-Why he spent the last year not writing.
-Finding comfort in writing his Ambulance Stories.
Daniel's Final Push will inspire you to go back to the stories that you had in your mind as a kid!

Quotes:
"The idea of sitting down and writing a book seemed so free. Because it was just me and the laptop."
"That's why I write. The world is destroyed and very much on fire."
"The bones and blood of being a writer is what you've lived, not what you've read."
"I feel like I'm writing to get the world to be what I know it to be."
"I just didn't know if it was in me to write a good enough book to be worth writing a book."
Links mentioned:
12 Fundamentals of Writing The Other (And the Self) [Buzzfeed]
Writing Begins With Forgiveness: Why One of the Most Common Pieces of Writing Advice is Wrong | Seven Scribes
Sierra Santiago and the Invisible City – Daniel José Older – Wattpad
Connect with Daniel:
Website / Twitter / Instagram / Tumblr
On the next episode:
Piper Thibodeau: Website / Instagram