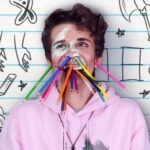 Xabio Arts aka Andrew Bosch is a drawing YouTuber that makes funny and helpful videos.  Along with his drawing tutorials and speed paintings, he also offers a candid look into the life of an artist and how he navigates resistance.
In this episode, Xabio Arts discusses:
-His early influence by Mark Crilley, Jazza and Feng Zhu.
-Why he puts his mistakes and first drafts into his videos.
-His frustration when trying to follow the tutorial of a polished perfectionist.
-How your eye for mistakes levels up as your actual skills level up.
-How he battles procrastination (even in his dreams).
-Taking breaks from creating YouTube videos (but thinking about videos the entire time).
-How he deals with negative comments.
-His relationship with likes.
-The card game that he is creating, and how he is involving his audience in the process.
-His "sneaky" hack for getting more engagement on YouTube.
-The experience of drawing with his mouth.
Xabio Art's Final Push will give you the inspiration to just keep going towards the things you want out of life.

Quotes:
"I know how much it sucks for me to feel like I need to put out perfect art and I don't want people to feel that same insecurity."
"I always feel like if I'm not completely miserable and suffering, I'm not working hard enough."
"There is magic in being able to make things."
Links mentioned:
Music: Adventures by A Himitsu
Creative Commons — Attribution 3.0 Unported— CC BY 3.0  Music released by Argofox  Music provided by Audio Library
Connect with Xabio Arts:
On the next episode:
Mike Janda : Website / Instagram
Tom Ross: Website / Instagram