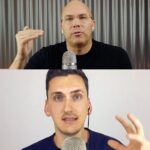 Mike Janda and Tom Ross are successful creative entrepreneurs who have come together to create the Biz Buds Podcast.
Biz Buds is value-packed weekly discussion where Tom and Mike share their journeys from struggling freelancers to both running multi 7-figure businesses, and the lessons picked up along the way.
In this episode, Mike & Tom discuss:
-How Tom created Design Cuts, the most curated and most highly rated design marketplace in the world.
-How to find your 1,000 true fans.
-Why you need to share your authentic, real self.
-The value of building your fanbase and community one person at a time (instead of shouting into the abyss).
-Why you might be more scared when you have less followers.
-Their best Instagram growth strategies.
-Thinking about your audience's audience.
-How to get in front of a wider audience.
-The thing that matters more than getting 10x the amount of likes.
-Why you need to start building your e-mail list right now (and what you should be sharing).
-How to overcome imposter syndrome as a creative.
-The best way to overcome perfectionism.
-The importance of deadlines.
Mike & Tom's Final Push will remind you to stop comparing your step 2 to someone else's step 50 and enjoy the ride!

Quotes:
"This is something that I wanted to do for years, but I wanted to ensure I had enough credibility to do it."
"Share your authentic, real self."
"Put out what you want to get back."
"The real connections happen in the DMs."
"People prefer the perception of making a purchase decision themselves and not being sold to make the purchase."
"You have to realize that almost every creative person in the world feels some imposter syndrome."
"Stop comparing your Step Two to someone else's Step Fifty."
Links mentioned:
Jab, Jab, Jab, Right Hook: How to Tell Your Story in a Noisy Social World by Gary Vaynerchuk
Biz Buds: Episode 11: Instagram Growth Strategies
Connect with Mike & Tom:
Mike Janda: Website / Instagram
On the next episode:
Will Terry: Website / Instagram