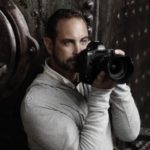 Troy Plota has been an award-winning Professional Photographer for over 30 years. His work has appeared in top magazines including Vanity Fair, GQ, Rolling Stone and many more. His advertising work has also appeared on dozens of billboards in New York's Times Square, as well as on the Vegas strip.  He has photographed dozens of celebrities like Heidi Klum, Usher, Mariah Carey, Hillary Clinton, Donald Trump, and many more.
Troy has always been on the forefront of technology and gave the Ted Talk titled "The Future of Photography."  Troy's latest creation is the digital sharing platform Plotaverse, which also features his award winning app, Plotagraph.  It was the only App featured on the Apple Store for the release of the iPhone X.
In this episode, Troy discusses:
-How he tries to constantly push the limits of technology.
-The importance of having the perspective of an artist while creating software.
-How challenges and contests have grown and matured the Plotaverse community.
-How he helps photographers and visual artists with monetization.
-The significance of motion art.
-How he was able to get 4 million downloads.
-Reaching out to his competition and realizing that they all have very similar stories.
-Why traditional artists might want to consider adding motion to their art.
-Some of the difficulties that he is seeing other photographers having as technology continues to change.
Troy's Final Push will encourage you to achieve freedom through your creative passion!

Quotes:
"I don't think there's anything more important than helping artists monetize their work."
"To monetize your passion is freedom."
Links mentioned:
Alatar on Your Creative Push Episode 232
Connect with Troy:
Website / Facebook / Instagram / Twitter
On the next episode:
Alatar : Newgrounds / Tumblr