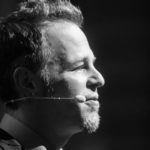 Adam Wilber is a world-class magician, author, inventor, and keynote speaker who believes that creativity isn't a finite personality feature — it's a skill that EVERYONE can master with the right mindset.
As a keynote speaker and creative thinking workshop leader, Adam engages, challenges, and inspires audiences with the promise that everyone can learn how to be creative and his five books define the magic formula of creativity and are the must-have manuals for anyone that wants to improve their creative quotient.
Upgraded magic tricks and brand-new illusions skyrocketed Adam's career as a professional magician. The never-before-seen inventions and illusions were highlighted on national television shows, including Penn & Teller, and in front of thousands of awestruck audiences at private and corporate events.
In this episode, Adam discusses:
-How creativity saved his life.
-The response he got about a magic trick pertaining to creativity that set him on a new course.
-How he fooled Penn & Teller on "Fool Us."
-The role that creativity plays on his life.
-The way he handles imposter syndrome.
-How the tide has changed in terms of companies getting behind creativity as a focal point in their long-term vision.
-Becoming an author.
-How he goes about developing a new magic trick, specifically looking at his trick, "Decibel."
-How he feels about other magicians using his tricks.
Adam's Final Push will challenge you to find that thing that has been a constant in your life and put your heart and soul into it.

Quotes:
"They say once you start doing what you're supposed to do and what you're passionate about, that's when you become successful."
"Your expectations are never as bad as the reality of the situation."
"That's where magic lives.  It lives in the mind of a spectator."
"If you have that one thing that's been with you your entire life — you've always wanted to do it, you've always tinkered, you've always dabbled — then that's it.  That's the thing you need to put your heart and soul into."
Links mentioned:
Penn & Teller: Fool Us // Adam Wilber Totally Baffles Them!
Aimée Hoover on "Between Worlds"
Aimée Hoover on Your Creative Push Ep. 174
Connect with Adam:
Website / Facebook / Instagram / YouTube
On the next episode:
Aimée Hoover : Website / Instagram