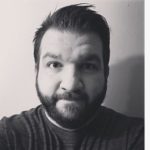 Johnny Anomaly is a spoken word poet, author and public speaker who has been entertaining audiences with the emotionally charged storytelling of his life for the past six years.
He is also the creator and host of The Creative Coping Podcast, where he and his guests discuss the trauma that has acted as a catalyst for their creativity.
In this episode, Johnny discusses:
-How he turned to writing and spoken word poetry after the loss of his son.
-How your greatest ministry will most likely come out of your greatest hurt.
-The way in which his motive changed from wanting to be a rock star to wanting to help other people realize that they are not alone in their difficult situations.
-Getting past the denial phase.
-The importance of producing finished work with the tools that you have.
-Dealing with procrastination.
-His process of creating a spoken word poem.
-How he used ten song titles as the basis for his first album, Inspired by Tragedy.
-The art of sublimation.
-Personifying pain.
-Why he started the Creative Coping Podcast.
-Having an alias.
-The experience of interviewing his wife and daughter.
-How easy Anchor makes it to podcast.
Johnny's Final Push will encourage you to stop making excuses and remember to speak up, stand out and stay creative!
Quotes:
"There's a lot of healing involved with being able to say what I want to say."
"I was saying things that probably shouldn't be said in front of an audience, but I felt that was the way I had to grieve and get things out."
"You have to personify that pain.  Give that pain a face."
"I don't know what I would do if I wasn't able to express myself in my writing or in my performance poetry.  Oh my gosh.  I'd probably kill someone, man."
"As insignificant or insecure as you may feel, just remember that you have a voice and you are worth being heard."
Links mentioned:
Dare To Be Different with Nevaeh LeBoeuf
Marriage & Mental Health with Jammie LaBoeuf
YCP Ep. 325 w/ Alisa Kennedy Jones
Connect with Johnny:
Creative Coping Podcast / iTunes / Spotify / Soundcloud / Instagram
On the next episode:
John Wentz : Website / Instagram