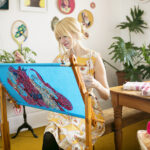 Danielle Clough is a multi-disciplinary artist from Cape Town, South Africa who specializes in the mediums of embroidery, photography, graphic design and video art.
She has been profiled by Instagram, Colossal, CNN, Vogue and The New York Times and had her work and in various exhibitions in South Africa, The USA and Russia.
Her new Skillshare class shows the basics of how she creates so that you can give embroidery a try for the first time.